Great!
You came via
Pinterest
and therefore you get
an extra discount
(while supplies last)
---
Offer valid until sunday, 02.04.2023
| | |
| --- | --- |
| Shipping | FREE Shipping on all orders! |
| Secure checkout | |
| Warranty | We offer a 30-day money-back guarantee |
Description
Revolutionize Your Cat's Litter Box Cleaning Routine with This Simple Hack!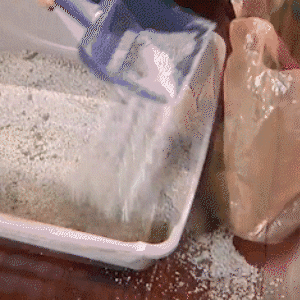 The truth is, cleaning the litter box is a rather unpleasant chore, which often causes us to procrastinate. As we scoop, it's not uncommon for a clump to slip out and scatter soiled litter everywhere, and despite our best efforts to sweep it up, bits tend to stick to our shoes or socks and end up in unpredictable places.
Introducing the Cat Litter Shovel - a game-changer for your litter box routine! Its innovative construction features a built-in roll of poop bags that conveniently fits into the lower section of the bin. These bags can be smoothly pulled up one at a time to form a lining for the bin. As you scoop out the clumps, simply tilt the bin and let the waste fall into the bag.
FEATURES
Scoop and throw away easily
Our litter scoop is a clever combination of shovel and litter bag. No more tedious steps, allowing you to clean your litter box quickly and easily with just one hand. When you're done, simply remove the scoop from the litter box, tie the bag in place, and throw it away.
Ergonomic handle design
This cat litter scoop has a smartly-designed handle that cleans up your cat's excrement without dirtying your hands in the cat litter box.
Large shovel 
Our 2 in 1 cat litter scooper with a large shovel with wide meshes can scoop up and filter litter quickly no matter how much it is.
Effortless rinsing
This multifunctional litter scoop has a wide front edge for cleaning deep corners. After use, the litter scoop can be rinsed off directly with water.
Highly durable
The cat litter scoop is made of high-quality PP material which is corrosion-resistant, durable, and long-lasting.
SPECIFICATIONS
Material: PP
Size: 29 x 8cm
PACKAGE INCLUDES