Great!
You came via
Pinterest
and therefore you get
an extra discount
(while supplies last)
---
Offer valid until sunday, 02.04.2023
| | |
| --- | --- |
| Shipping | FREE Shipping on all orders! |
| Secure checkout | |
| Warranty | We offer a 30-day money-back guarantee |
Description
Firm & lifted. Every day. Effortlessly. Full facial fitness. In just minutes.
WHY YOUR SKIN WILL LOVE IT:
Instant facelift
Facial muscles — toned. Skin — smooth. Wrinkles — what wrinkles? This is possible thanks to advanced microcurrent that mirrors your body's natural electrical currents on a cellular level. And the best part is that it's non-invasive.
Energizing facial workout
What fitness does to your body, IAMA MINITM does to your face and neck muscles. Stimulating microcurrent tones the skin and muscles below, while gentle Sonic pulsations massage the face and brighten your complexion.
Youthful radiance
This device gives you a smoother, glowing complexion due to eliminating toxins and easing facial tension. IAMA MINITM combines microcurrent and Sonic massage to improve microcirculation.
Safe and effective
Anti-Shock System guarantees comfortable treatment, with maximum safety & enhanced results. How? By automatically adjusting microcurrent intensity to maintain an unwavering quality of your IAMATM mini-indulging rituals.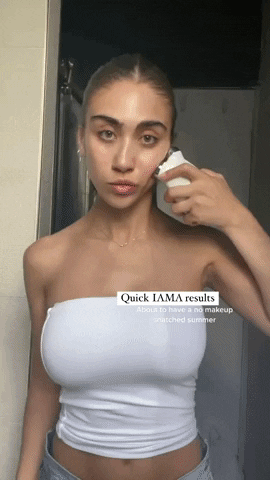 Benefits:
1. Reduce fine lines and wrinkles.
2. Replenish moisture and make your skin smoother.
3. Reduce puffiness and edema.
4. Compact skin and contours can be seen to restore sagging skin.
5. Shrink your pores.
6. Reduce blackheads and acne.
7. Reduce scarring and dents.
8. Reduce dark circles and puffy eyes.
9. Reduce symptoms of eczema, chloasma and rosacea.
Features:
- ATP technology
Adopts ATP technology, helpful for improving the appearance of the skin
- EMS ultra-micro current
EMS ultra-micro current is adopted, it is effective in improving fine lines on the face
- Mini size and portable
With simple button design, easy to operate
- Three adjustable levels
Can be adjusted freely according to skin quality sensitivity degree, suitable for a variety of skin
How to use:
1. Press the button to start up, press again to switch gear, long press 3 seconds to shut down
2. Keep both balls in contact with the skin at the same time. You should feel nothing or little twitching when the using the Mini.
3. After use, please clean the fuselage with a cotton piece to keep the instrument clean.